Sundance Media Group, LLC
Based in Las Vegas, Nevada and West Jordan, Utah, Sundance Media Group (SMG), has been producing training for trade events for over 20 years. Instructors from SMG have taught, presented workshops and have participated in panels worldwide. Over the years, SMG's area of focus has been audio, video and software applications for production and post-production. Douglas Spotted Eagle, the original founder of SMG, has long history of aviation, from the adrenaline-filled world of fast-action videography in skydiving to commercial application of drone/UAV use. SMG's latest evolution and vision is to incorporate its years of experience for best-practices training into the world of UAV use.
SMG serves as a consultant within the UAV industry, offering training and speaking engagements on UAV topics: UAV cinematography, commercial and infrastructural UAV applications, UAV risk management, night UAV flight, aerial security systems, and 107 training to ensure pilots clearly understand the FAA laws. With an intimate knowledge of the FAA FARs and FSIM, our collective experience with instructors and UAV pilots nationwide is our foundation for creating a best-practices for everything drone/UAV/UAS.
Jennifer Pidgen
Owner & COO
As majority owner and COO of Sundance Media Group (SMG), Jennifer is dedicated to developing the sUAS/UAV training programs and strategic industry partnerships. A marketing guru with over 20 years of marketing experience within the consumer electronics and photo/ video channels, Jennifer also manages large-scale training events and vendor/sponsor relationships.  No stranger to logistical and analytical reporting, Jennifer manages all sUAS/UAV logistics and overall SMG operations, including applying for SMG's ISO certification. Bearing a degree in finance/accounting, Jennifer also holds a USPA regional wingsuit and speed skydiving judge rating.  Jennifer's diverse background in science, math, and marketing are a remarkable combination within the sUAS industry as her education, experience, entrepreneurship, and passions are put to good work. Ultimately, her expertise is inspiring conversation and cultivating mutually-beneficial partnerships; each with a focus towards building a successful and safe sUAS/UAV community.  She is a creator of opportunities within the industry.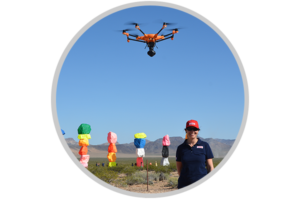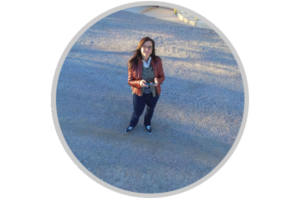 Douglas Spotted Eagle
Founder & Primary Instructor
Douglas Spotted Eagle is a giant in the video and audio industries, having received Grammy, Emmy, DuPont, Peabody, and many other awards.  Douglas is a primary instructor and industry consultant for Sundance Media Group, Inc. and VASST, authoring several books and DVDs and serving as an advisor and guide for videographers, software manufacturers and broadcasters.  Douglas is a well-known musician and a world-travelled speaker/instructor.  Douglas now focuses his energy and experience within the UAV/sUAS industry.
Skydiving since 2006 and instructing UAS since 2012, Douglas is an accomplished aerial photographer who thrives in the adrenaline-filled world of fast-action videography. Appointed as a Safety and Training Advisor in the aviation world, he is a risk management/mitigation subject matter expert. Douglas is an audio and imaging pro with numerous awards for his productions; with an intimate knowledge of the FAA FARs and FSIMs, Douglas' vision is to incorporate his years of imaging and aviation experience into best-practices for everything drone/UAV/UAS. Douglas is a frequent (and dynamic!) speaker and consults on UAV cinematography, commercial and infrastructural UAV applications, UAV risk management, night UAV flight, aerial security systems, and 107 training to ensure pilots clearly understand the FAA laws.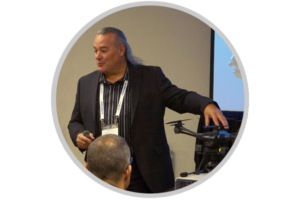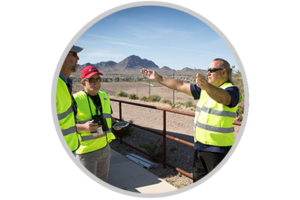 OUR INSTRUCTORS
Luisa Winters is an internationally celebrated instructor, presenter, and musician. An accomplished videographer, editor, 3D animator and graphics designer, she has created and edited scores of broadcast video and web projects for corporate, government, and educational, commercial and private clients.
An accomplished violinist, Luisa was, at the age of 13, a full-time member of the National Symphony Orchestra in the Dominican Republic. While attending the legendary Peabody Conservatory (in Baltimore, MD), Luisa learned from master musicians: Henryk Szeryng, Berl Senofski, Aarond Rosand, Charles Libove, and Leon Fleisher, among others.
Expressing her art in digital form, Luisa became an editor and motion graphics artist in 1985, and has been performing both arts full-time since that point in time. Luisa was the Adobe Premiere Pro Technical Chair for the Post-Production Conference at the 2008 NAB convention in Las Vegas.
Luisa is the author of Total Training for Adobe After Effects CS4 – Essentials (DVD), Absolute Training Premiere Pro Essentials (DVD), Adobe Premiere for Videographers (DVD) and Scores of magazine articles on Adobe Production Premium techniques (in English and Spanish).
Luisa is a private pilot, soon to receive her Certified Flight Instructor's rating from the FAA with over 350 hours of flight time. An Adobe Master Instructor, Luisa has been an educator for over 30 years teaching Adobe, Apple and production classes for clients in government, military and private organizations. "Flying and teaching became natural to me; if we can teach people how to fly, they will continue life believing there's nothing they cannot do".
James, has an extensive computer and electronics background. Starting at NASA Dryden Flight Research Center at Edwards AFB, CA. in the Information technology department. After three years at NASA, James enlisted in the United States Air Force in Security Forces. Over his twelve-year career with the USAF, James assisted on establishing several installation uses for the RQ-11 Raven system. James has also been a member of the Civil Air Patrol, USAF Auxiliary since 1999. Recently, James was assigned as a Senior sUAS pilot and trainer for the Civil Air Patrol and is currently helping with developing a nationwide training curriculum for sUAS operations. James is also a Civil Air Patrol rated Mission Observer, Aerial Photographer and Ground Team Leader instructor in Nevada. James has received his FAA Part 107 and is currently working on achieving a private pilot, glider rating, with the ultimate goal of a Rotor CFII rating.
When he is not assisting with CAP, he can be found operating all types of sUAS in many challenging environments for recreation and testing. James is currently assisting with the CAP Science, Technology, Engineering and Mathmatic (STEM) curriculum to motivate youth to become interested in a career in STEM in conjunction with the presidential program. Lastly, James is a Air Operations and Ground Branch Director in the National Incident Command System (ICS) and is currently looking to expand sUAS operations within IS.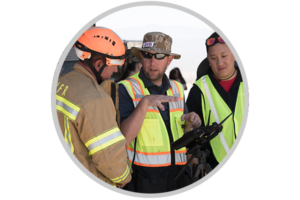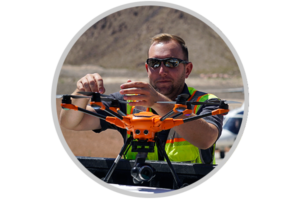 Jack Spear is a fixed wing rated private pilot, with an instrument rating, and advanced ground instructor rating. Jack has over 1000hrs of pilot in command time. He has taught aviation ground schools for several years. His interest in UAV's has been a recent addition to his aviation background. He is currently the project officer for Civil Air Patrol's UAV test and evaluation program. The goal is to integrate UAV's into CAP's Emergency Services, Search and Rescue Mission. His intent is to assist SMG with integrating UAV's into broad use. Jack is retired from NASA, where he worked in aircraft ops, quality assurance, and security. When Jack is not busy with aviation related stuff you can find him at a local comedy club performing stand-up comedy.